Sylvie, in her infinite 3-year-old wisdom, found this at a rummage sale.
Ever since, it's taunted me, calling out in its helium voice: "Are you ready to become a smart writer?" Apparently my plodderly, non-smart-writer-footfalls shakes it into sudden, optimistic action. It wants to save me. It wants to pump me up.
Link to file if it doesn't play
Go head, play it a couple of times. Now a couple of more. Now imagine you're up in the dark of the morning trying to figure out how in the hell to resolve the inverted convolution that is your plot. That snarled, brambly, thorny patch of chaos? Yes, that one. The cat wants out, the cat wants in, the coffee maker is slowly leaking, and this guy, this guy is asking you if you're ready to become a smart writer. Well, are you?
Here's a close-up of his face.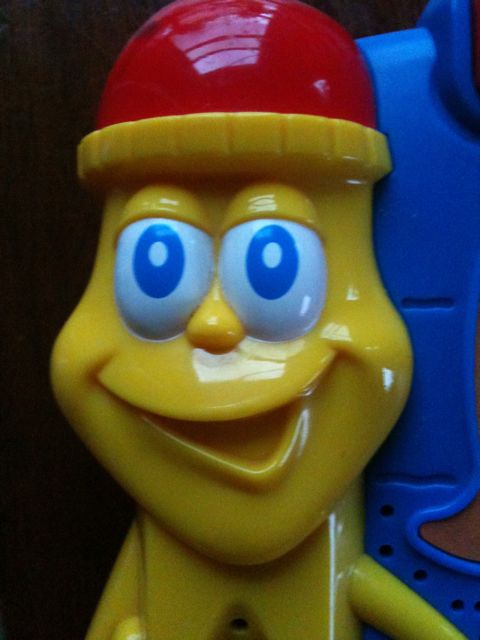 You can tell by his coked-up eyes, he's quite confident in his own writing ability. He just wants to help you with yours. On the bright side, there's a button on the gizmo that I'll be using to write my next book, or possibly I'll use one of the others to create a smart doodle or a smart shape. The future is mine!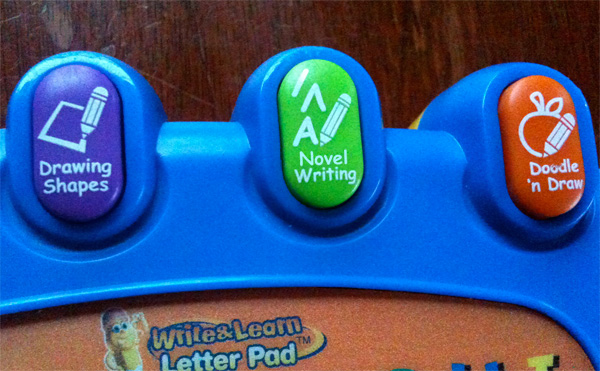 That's all.