Ubiquitous internet through the air is cool and so sci-fi. I loved the setup process — get a modem in the mail, plug it in, voila! Yes, having all that signal stream through my brain makes me nervous – but we're already doing that to ourselves in no small amount.
Alternately: Comcast drives me crazy. They're too expensive, hard to reach, and I don't want their TV crap. I just want the pipe.
But look at these speed differences:
Clear WiMax (on the fastest plan, ~6MB):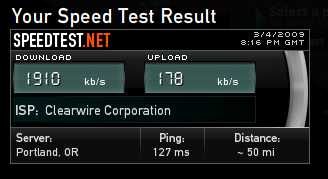 Comcast (re-installed today)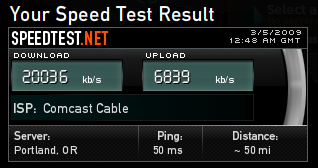 To be fair: Clear tried hard. They were very friendly, their support was patient and knowledgeable. I tried their suggestions and once or twice got up near 4mb…but never consistently.
If you happen to be in an area where you get a better signal, and if you're not running a freelance web dev business, maybe you'll get better mileage. Sadly, I'm on Comcast's wire again, and Clear's box is heading out.