I've been sending myself some very interesting spam recently, at least according to my Gmail spam folder: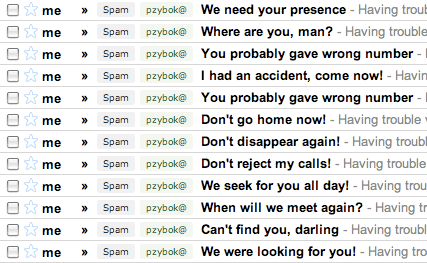 I have had some trouble hooking up with myself lately — phone tag, standing myself up, etc. which has caused some confusion about the house. Sometimes I arrive and when I ask, people tell me I've just left. Damn! Thus the bevy of emails sent from me as to my whereabouts. I do occasionally call myself darling, so that secret is out. Also, if anyone knows what kind of accident I was in, please let me know post haste.
When I open these up, Google tells me:
Alas! I already know almost all of my personal information!