I haven't done as well as I'd like keeping up on healthcare bills and the news and the progress of Obama's presidency (when I have a new project going, a lot of other things — like keeping good track of the churning of the news — get dropped. Word count is 83,212 words, incidentally). I have certainly heard impressive amounts of criticism from all sides, and reserved optimism, too.
But from afar, here are two writer-related items that just makes me feel incredibly happy to have a president that is so radically different than our last.
#1 – Obama sent Yann Martel, author of Life of Pi, a fan-letter. (!)
Martel says:
"If there was a way of tattooing it on my back, I would. What amazes me is the gratuity of it. As you would know, there is a large measure of calculation in what public figures do. But here, what does he gain? I'm not a US citizen. In no way can I be of help to President Obama. Clearly he did it for personal reasons, as a reader and as a father. And in two lines, what an insightful analysis of Life of Pi."
There is irony here, since Yann Martel has been on a multi-year campaign to send Canadian Prime Minister  Stephen Harper a book a week, along with an inscribed letter from him, in order to raise arts awareness. This is all documented on the website http://www.whatisstephenharperreading.ca. In the most recent post (in which Stephen Harper receives a copy of King Leary by Paul Quarrington, guest author Steven Galloway gives a sort of nice tagline for the site:
"In a way, you're in what must be the world's most exclusive book club, albeit somewhat unwillingly. I bet Mr. Obama is jealous!"
Read Obama's letter on Fiction Writer's review
#2 – Look at the edits that Obama put on this speech. Just look at them.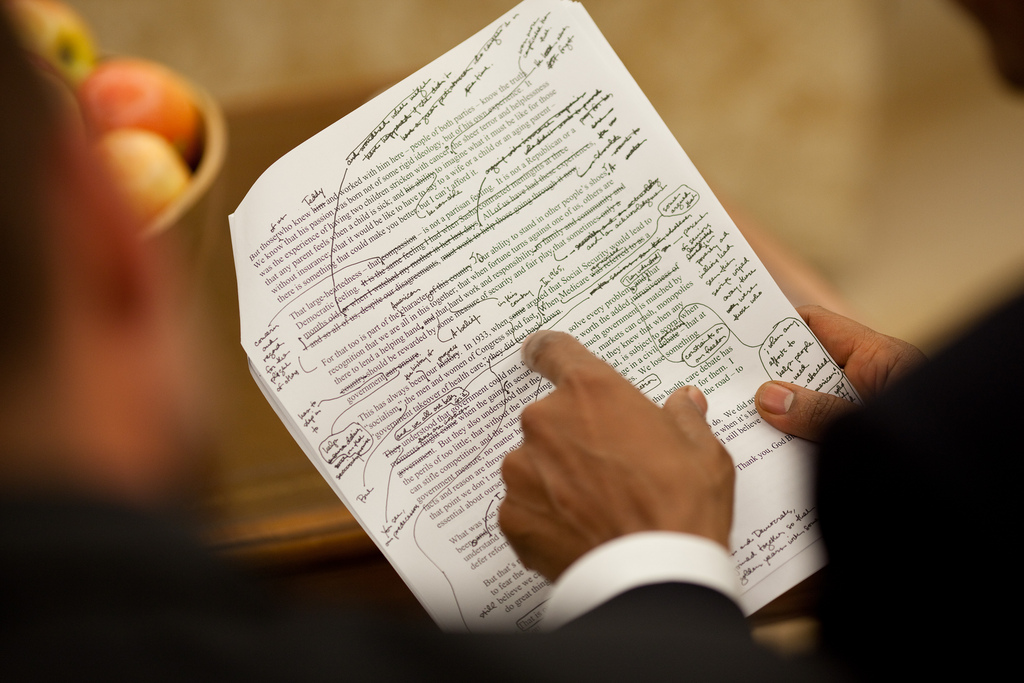 I'm sure to someone receiving an edit like this on the job (speech writer Jon Favreau) it must be frightening, but right now the only edits I see are mine. Pages like this are gold — it means that the text has been worked, and worked hard. That someone cares about what is said, and how it is said. The piece has been honed. Bravo.
All other things aside, I really love having a smart president.
Original article here: Editor in Chief found via John Scalzi's Whatever