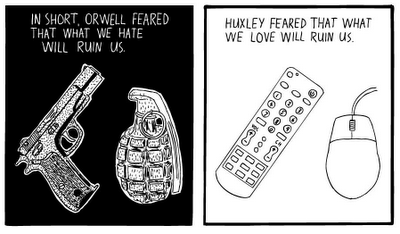 There's an excellent post over at  Fake Steve Jobs about what, I expect, we all consciously or instinctively know about our culture right now. Fake Steve's rant is inspired by this great comparison of the fears of Aldous Huxley vs George Orwell in comic form, the words of which were taken from the book Amusing Ourselves to Death: Public Discourse in the Age of Show Business by Stuart McMillen, which will definitely be going on my must-read list.
Brave New World is still one of the most amazing books I've ever read.
I recently finished Feed by M.T. Anderson, which was an incredibly adept, modern take on Brave New World and highly recommended.
Now then, I'm off to play Risk on my iPhone. And did I mention it's efffking hot here?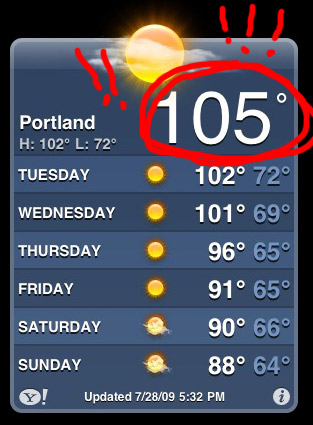 WTF? I live in Portland! The city will drown in a sea of heat wave.