Yes, the rumors are true: I'll be in your town searching for the perfect cinnamon roll.
If I find the time, I may also read at a book store. The cinnamon roll quest is scheduled around the following divine cinnamony space-time manifestations:
Portland, OR – Powell's Books, March 16th, starting at 5:00pm. I'm part of Powell's Smallpressalooza put on by Kevin Sampsell of Future Tense, so there will be a lot of readings this night. Here's the full list and it looks great:
5:00 Starlite Motel ("Night Bomb")
5:15 Zachary Schomburg ("The Pond")
5:30 Tim Sproul ("How to Leave Your Hometown for Good")
6:00 Ronault L.S. Catalani AKA Polo ("Counter Culture")
6:15 Emiko Badillo ("Broken Hipster" zine)
6:30 Matt Briggs ("The End Is the Beginning")
7:00 Moe Bowstern ("Xtra Tuf" zine)
7:15 Karen Giezyng ("Bumpstart" zine)
7:30 Lia Cunningham ("The People I Love Best" zine)
8:00 Molly McNett ("One Dog Happy")
8:15 Benjamin Parzybok ("Couch")
8:30 Evan Schneider ("Boneshaker" zine)
9:00 Samuel Ligon ("Drift and Swerve")
9:15 Jeff Stewart ("March of Time & Skin")
9:30 Riley Michael Parker ("Our Beloved 26th")
9:46 – 12:01 – Dionysian cinnamon roll engorgement!

Should be a great night. I have no idea what I'll read, but there certainly seems to be quite a few books in the store to choose from.
The rest of the schedule may be seen in detail here: http://booktour.com/author/benjamin_parzybok
March 17th – Olympia, WA – Orca Books!
March 18th – Tacoma, WA – Garfield Book Company at PLU
March 19th – Seattle, WA – Seattle Public Library – Ballard Branch (via Secret Garden Books)
March 21th – Bellingham, WA – Village Books
March 23rd – Missoula, MT –Fact & Fiction
March 24th – Dillon, MT – The Bookstore
March 25th – Spokane, WA – Auntie's Books – oh look, an Ugly Couch Contest at Auntie's! – click to see fullsize: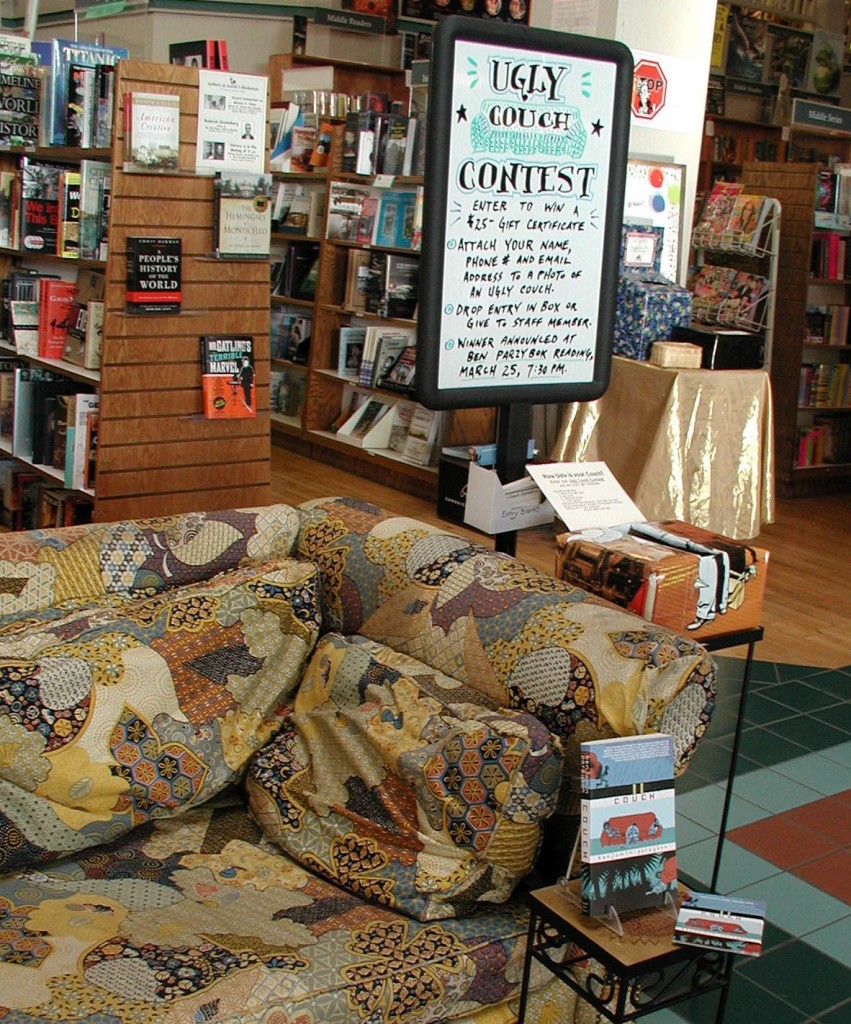 Please help me find the perfect cinnamon roll.
Yours,
Ben