(Note: Updated for correct spelling of Neil Gaiman and the correct award, whoops!)
This is very fun — I'm taking a snapshot here in case this disappears in a bit — but I was just informed that Couch is currently third on Powell's bestseller list (updated hourly) — behind Junot Diaz's The Brief Wondrous Life of Oscar Wao, but ahead of – good lord, and it just won a Caldecott Newberry – Neil Gaiman's The Graveyard Book.
This is likely a result of being a part of Powell's incredibly awesome Indiespensable program along with Tinkers author Paul Harding.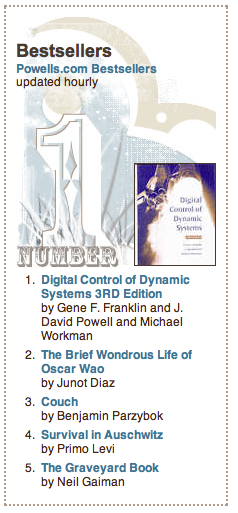 Go Couch!