We've been surviving pretty well for a couple of years with a small, fuel-efficient car for the four of us but if, for example, I was at work and Laura wanted to head to the store, it was getting harder and harder to lever a couple of small surly kids into a bike trailer without some sort of resulting bloodbath.
For about — oh, 4.2 seconds we thought about buying another car — but who are we kidding? This is Portland and we really, really don't want another car, for a number of reasons. That's when we found out about Xtracycles.
So this Sunday we got our nerve up and went and bought ourselves an Xtracycle Radish and jerry-rigged another seat onto it. It's a real beauty. I very much want to see a Mad Max remake with just these type of bikes.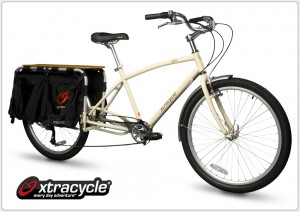 Because of its long wheelbase it's such a smooth, cadillac of a ride.