I just got a very lovely message via GoodReads
Hey Ben, 
I just voted COUCH for the 2009 Puddly Award on the Powell's website. 
Good luck! 
~Stephanie
Awesome, thanks Stephanie!
Of course, I'm competing against a phenomenon known as Twilight, but it'd be awfully fun to place. It looks like you could walk away with several hundred dollars in prizes no matter who you vote for (though they're not exactly clear on that). If you get the hang of the voting deal, here's another spot…
Second: Look at all these handsome posters with Andi Watson's artwork on them.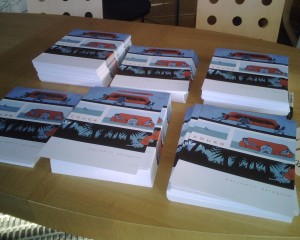 As I mentioned, these will be sent out as part of Indiespensable along with Paul Harding's Tinkers. It's got a secret letter from me on the back as well as postcards from Thom, Tree and Erik and I signed the front — or rather, I was half way through when my index finger crashed and burned, leaving a fiery skid mark across the table and setting off the fire alarm.
I need to send the rest back back to my publisher, but I think I could probably sneak a few off the deck.
If you want one send me an email at ben at ideacog.net with your address. I could probably make off with about 5 or so?
Happy inauguration all!