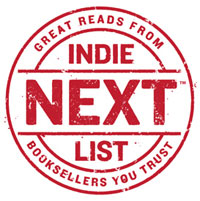 Here's a couple of updates to Couch:
Couch is now officially an Indie Next List pick since it's now January.
Read about other Indie Next List picks here or, if you're a bookseller, get yourself some very fancy Shelf talkers or download them directly as PDFs here.
Three new reviews:
Paul DiFilippo, writing for Barnes & Noble Review, said about Couch:
"…comic and pratfall-laden on the surface, but surprisingly affecting and mythic underneath. Parzybok's easy voice is guileless and contemporary, fluid and colorful as that of Tom Robbins, yet concealing considerable craft." 
Thanks, Paul! (Paul's books are here)
John Enzinas of SF Site wrote:
"The story gets stranger and stranger as the adventurers find themselves riding the rails on an electric cart, drifting on the couch in the Pacific Ocean, stowaways on a freighter bound for the Ecuador, and carrying the couch through the jungles of South America on a cart with a fog propeller. In between there is action, philosophy, violence, sex, drinking, fishing, terrorists, shadowy cabals, fishing and gluten intolerance.

 The story is fun, the characters are sympathetic and the writing is tight."
Thanks, John!
Mark Flanagan of ContemporaryLit.About.com said:
"Literary and historical allusions sprinkled throughout make the novel something of a treasure hunt, and a bit of bathrobe philosophizing in parts will make you go "hm." Couch is a quick and funny read, a short fable that ensnares us in its quixotic intentions and encourages us to believe for a short time in something magic, even if it is just a couch."
Thanks, Mark!
I will be doing another mini-tour come the end of February – oncet we work out the details, yo.
Happy New Year all, my lovelies. Stay safe and warm. It's raining devilishly outside. This year is going to bring a whole lot of awesome, especially since we have nowhere to go but up.