Portland weather can be pretty impressive. Certainly you've seen this:
We seem to be headed for the same weather in the next few days.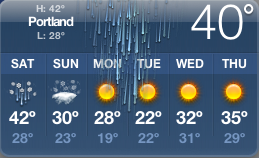 The ice is really amazing. I grew up in Spokane, WA which gets a decent amount of snow – but the ice in Portland is of a completely different level. Think of it like an entire city being coated in a solid inch of oil-covered glass. It's that strong and that slippery. You can scarcely walk outside of your house.
Here are pics I took about 5 years ago: