To finish out my battle madness set of photos I will, as promised, post photos of the readings here to prove to myself that I attended these events, in some form or another. I am working under the assumption that I took these photos, since they came from my camera, and not some doppleganger that filled in while I lay fainted on the floor. 
At any rate – these were all lovely audiences, smaller than the incredible ones at Elliot Bay Books and Powell's, but certainly no less sharp.
Amherst Books (note: in the end neither I or Amitav Ghosh showed for my proposed duel, as I'd described in this post. It's for the better, as I really only had one performance shirt and it would have looked sad with a hole through it.)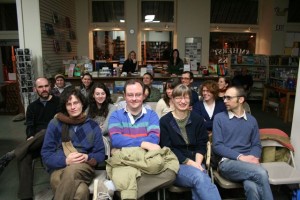 I was on Amherst College radio too and that was a blast.
This is what the window of Raconteur Books looked like when I arrived. So cool.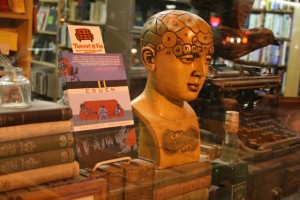 The reading was dark and intimate and there was free wine!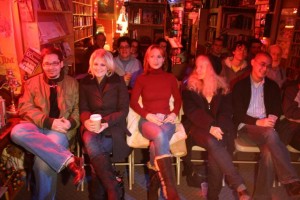 Take a look at this dictionary that was there with an opening letter to the KING – I photographed the first page (click for large view). I post this for 'the happinefs of the people':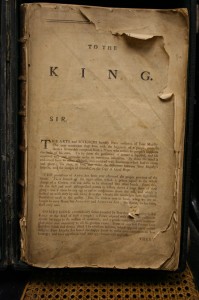 And then finally I read (presumably) at Pandemonium Books in Cambridge, MA: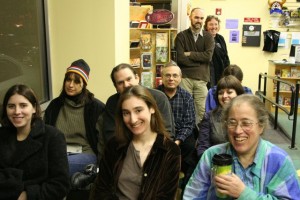 There are some incredibly nice people in this photo.
Many thanks again to all.
And now I'm home – where I seem to have caused an altogether impressive amount of havoc by introducing slide whistles to the children, and vice versa.