(oops, fixed some mistakes)
Here are a bunch of Couch tidbits – of which there will probably be no small quantity of in the next few weeks. I'm trying to get a hang of how to be an author-y type person out in the world with a first book – and there are no lack of great, well-seasoned authors whom I'm leaning on for guidance. Here's a post by Justine Larbalestier on Self Promotion, and here's a somewhat depressing article by Stacy Sullivan on more or less the same. Oh, and I see Tobias Buckell talks about marketing and new writers today in a podcast.
OK – Couch is making its way out there!:
There's an interview with me at Porter Square Books
I created a sort of soundtrack type thing for the very cool Large Hearted Boy's great Book Notes series.
And there's a very flattering review at the "Me and My Big Mouth" blog:
"It is an upholstered Odyssey unlike any other you are likely to read.  It is funny, confusing in places, wild and anarchic.  It is part Quixote, part Murakami, part Tom Robbins, part DFS showroom. …. It has cult hit written all over it."
awesome. I'm perfectly ok with cult hit.
And finally – a fan drew this as a prospective cover for Couch before it had one. I love this piece. I think the 3 roommates in the water is visually one of my favorite parts of the book.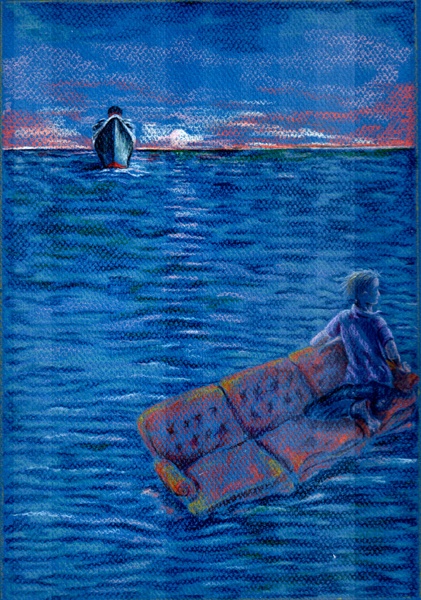 And yes – the 'fan' is my mother. Thanks, mom!